Discussion Starter
·
#1
·
"The Toltec"
Dear Friends,
I remember reading about this ancient Mesoamerican culture (ca 800-1000 CE) called "Toltec" I though you would enjoy...
The "Toltec " meaning "artisan", believed that the greatest work of art was a human being and that your life was its work in progress! ~Elia Cid
Picture: 'The Atlantes" are columns in the form of Toltec warriors in Tula. The archeological site of Tula Mexico is the ruined city of Tollen, once the Toltec capital with a population of 60,000.
Written by Elia Cid.(c)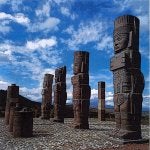 Photo from PB Works precolumbiancivilizations / Toltec Remai