Discussion Starter
·
#1
·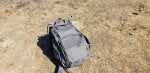 A while back I was looking for a new get home bag. I picked up several different bags and I was going to review each one as I tried them out however a shoulder injury and then work got in the way.
The LA Police Gear 24 hour Tactical Backpack is 3200 cubic inch pack which if my math is right come out to about 52L which is a lot of room (for comparison the rush 72 from 5.11 is 55L). At a price point of S59.99 it comes in at a very nice price compared to 5.11, Blackhawk, Cannae and Direct Action bags of similar size.
It's made of 900D Polyester with a PVC coating. I wondered how water proof this might be and as such poured some water over the bag. From the 2 liters of water I poured on it the areas that got wet stayed dry on the inside however with nothing covering the zippers water will get inside if it's raining or if falls into a body of water but for quick splash or light drizzle it should be more then antiquate for keeping gear dry.
You have the choice of Brown, Coyote, Black, Grey and OD green for colors. I went with the grey as I want it to not scream tactical if I could help it.
The laser cut MOLLE, is nice as it's subtle but useable. If you want a tactical bag that might be a bit more discrete this could work as you don't notice them until you get up close. Which was ideal for how I want to use it.
There are 2 out pockets on the left and right side of the bag. These pockets are large. I was able to fit a 1L Nalgene bottle in there and still had some room left over. I go back and forth if I would prefer a more traditional water bottle pouch on the outside to hold a water bottle but having it zipped up is a nice option. However with how large the pockets you could fit a water bottle and a few other things in those pockets which is a nice perk.
On the front of the bag, the small upper pouch is large enough to fit a full sized pistol. (sig p226, Glock 17). Below that is a large pouch that I would call the admin pouch as it has slots of pens ect. This pouch is large. I had all my I need to get to quickly Items in it and it still had some room left. Below that pouch is a small zippered pouch. Its pretty thin and not very deep. I was not able to fit much into it but things like a compass or pocket knife. But it could be useful for caring documents you might want to have handy.
The main compartment is huge. I was able to fit a Ruger PC9 in it. I tried a 16" barreled AR but it would not fit the upper. So if you had a SBR or AR pistol you could easily fit it in there. Even with the PC9 there is plenty of room for your get home items such as cloths food mini stove ect… I ran a 2L camel back in the bag and had plenty of room if I wanted to use a 3L. There are 2 zippered mesh compartments. The mesh does not feel very strong and I wonder how well they will hold up. However they are roomy and easy to access. Above the main pouch is a sunglass pouch lined with a soft fabric. I was able to store some clear safety glasses and sunglass with no problem in the pouch.
Along the back where it rest against your back there is a large compartment where you could put an armored plate or hold maps with ease. The newer ones come with a liber that goes in there to act as a inner frame to help keep the bag ridged.
The shoulder straps are wide enough to be comfortable. There are buckles on each strap so you can attract the LAPG tactical chest pack attachment. Since I don't run one and I am not sure if its something I would want I will probably buy a matching buckle and have some small things like a compass from there when having to use the pack.
When I got this pack it surprised me as to how big it is. In my head I was expecting something more the size of a Rush 24 hour bag for 5.11. I will say as a person who is 6'2" 230lbs it fits me well. The only complaint from wearing it was when I did a 20 mile hike with it in colder weather and I found the Y where the straps meet pushed into my neck with all the layers on. That being said I am built like a linebacker so it probably won't be that way for most people. Or if I layered smarter it might not have been an issue. I have found the pack to be quite comfortable on long hikes with about 35lbs of gear in it. As long as you make sure it's packed correctly. It just big enough where if you don't pack it right it will be awkward and uncomfortable quickly. I had bought this thinking it might be a good daily get home bag for my car or truck. However the size is a little big my needs in a short range get home bag. However It might make a good medium-long range get home bag. Or for some people even a good bug out bag on a budget. Personally I always have an issue with expensive bags being left in my vehicle's as things tend to get stolen from vehicles if people see that you left a bag in there or looks like you might have something of value in the vehicle.
Overall this bag has exceeded my expectations for what is would be. While it's a little large for me to want to use a daily get home bag for many people it might be the right size. I do wonder how well the 900D polyester from a $60 bag will hold up in extreme hard use. However for people on a budget I have a feeling it could be a very practical bag. I have used mine for close to a year and it does not show any signs for wear. Granted 6-20 mile hikes even in rough terrain is different then a situation where you might be crawling around and pushing though brush to make your way home. All in all I think this is a amazing bag for the price, which makes it ideal for a truck or car get home bag, or for someone starting out to use as a bug out bag.
https://lapolicegear.com/lapg-bg-24h-pack-atlas.html