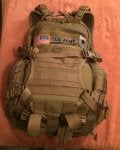 I run the TAD Gear Fast Pack EDC. and I love it. it is extremely durable, ridged and well made. iv got a two liter hydration system in the bag I didn't display. the bag overall is amazing. the price isn't. but like one of my Battle buddies once told me "Gotta Pay The Cost To Be The Boss" lol
main features I love about the bag is it is very well designed to handle heavy loads. I run it daily about 40% full and leave the rest empty to keep it flexible and adaptable for when situations change on the fly. the waist strap is wide and very well constructed. my favorite part is the Beaver Tail, that's the outside flap as you might call it held together by 4 straps and buckles "which can be removed" if your in the military it holds a combat helmet perfectly! or extra clothing, gear Etc... if you flap the beaver tail down by undoing the two top buckles there's a pocket on the inside of the beaver tail that holds a Long rifle or shotgun perfect, than use the two top straps you undid earlier and strap it back together and it keeps the weapon secure! here is a list of gear I keep in my bag daily. I normally take my bag if im gonna be gone for more than an hour or im leaving town. I try to keep this close and at the ready, I cant tell you how many times this bag has saved my ass either with a way to charge my phone, put food in my stomach or medical supplies. here's the list:
*
playing cards
- always seem to find a need to break these out when friends or fiancé to kill time.
*
Brunton portable charger
- I have two and between the two I can charge my phone up to 5-6times from 10%to 100%, great buy, clearance isle at Walmart.
*
Home and Car USB Charger unit
- gotta have a way to charge them no matter where you are.
*
3 in one charger cable
- came with the Brunton charging system, charges the portable charger and I can use it with my home / Car USB charger.
*
Headphones
- sometimes you need to drown out your surroundings .
*
Cree flashlight
- this little guy normally stays in my pocket, was like 5$ on amazon. must have.
*
S&W Black Ops Knife
- almost always stays on me which you should never leave home without one.
*
Monocular
- prolly the least used item in my bag, but I like to keep it in there.
*
Flash drive
- keeps documents I need, Resume, Certifications Etc..
*
Batteries "AA"
- Mainly to keep my Cree light going.
*
Lighter
- always have a way to start a fire.
*
MRE
- Mans gotta eat.
*
Power Bar / Seeds
- always nice to have pick me ups.
*
Pen and Pencil
- always have a writing utensil.
*
Write in the Rain Pad
- little pricy but nice to have, always seem to be needing it so I don't forget crap..
*
Sunglass
- cant tell you how many times iv left the house and went Sh%t its bright out..
*
Lock pick set
- not for Malicious purpose. but nice to have its a Southord 17 piece set.
*
Extra Glock Mag
- never know..
*
Glock 23
- great firearm, light and compact. normally on my person everywhere I go. "im licensed to carry".
*
Fenix PD35
- when you need more than 60 lumens, this puppy has 5 settings maxing out at 850 lumens. comes in handy.
*
Gerber multitool
- Diesel model, great to have. if your in the military this item is extremely handy and like to disappear.
*
Tactical Gloves
- never hurts to have a pair.
*
Life Straw
- this item is amazing. tested it on some nasty creek water. tasted like a new bottle of water.
*
24oz water bottle
- always have water on you no matter what. hydration is a must.
*
Condor Rip-away EMT pack
- this item if assembled right will be one of the most valued items in your bag some of the items ill list are ones I use a lot and have came in handy not only for my self but for my battle buddies, mom, fiancé. "don't make it habit giving away your items tho"
- nail clippers
- sleeping pills
- Pepto-Bismol pills for upset tummies
- eye drops
- band aids
- anti itch cream
- pain killers
- antiseptic ointment
- oral numbing agent "ever had a sore tooth or a canker sore? this is a little slice of haven"..
if you wanna know more about what I do why I do or anything PM me or email me. "
[email protected]
" just in case I don't see your comments or questions in the feed! take care and thanks for your time!