Discussion Starter
·
#1
·
Of all the knives I own, I am fondest of my Victorinox Swiss Army Knives model "SwissChamp" - literally, a survivalist's toolbox that fits in your pocket.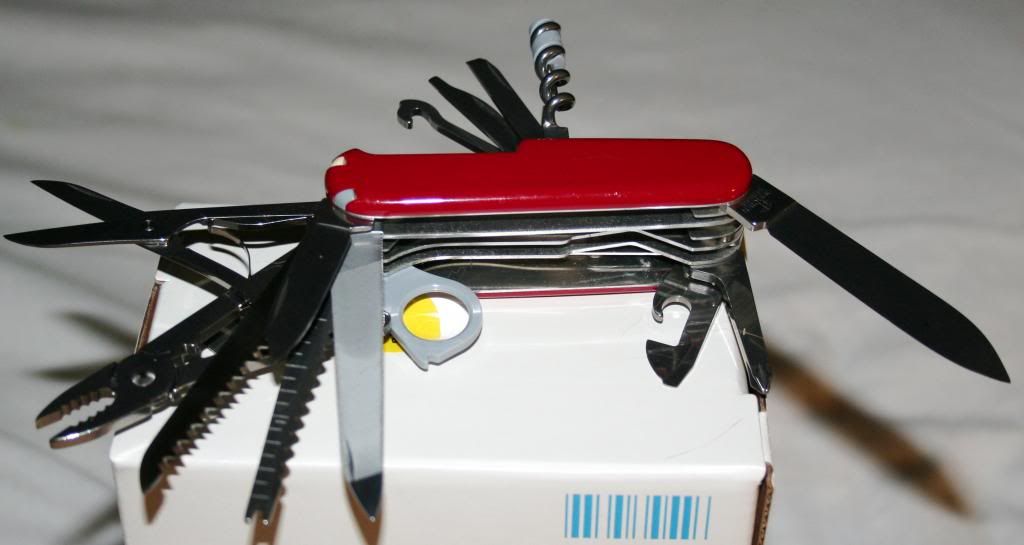 Here are all the tools this knife comes with:
1. large blade
2. small blade
3. corkscrew
4. can opener with small screwdriver
5. bottle cap lifter with screwdriver
6. wire stripper
7. reamer
8. key ring
9. tweezers
10. scissors
11. toothpick
12. multi-purpose hook (parcel carrier)
13. wood saw
14. fish scaler with hook disgorger
15. ruler (cm + inches)
16. nailfile with metal file
17. nail cleaner
18. metal saw
19. fine screwdriver
20. chisel/scraper
21. pliers with wire crimping tool
22. wire cutters
23. Phillips screwdriver
24. magnifying glass
25. ballpoint pen
26. pin stainless
27. mini-screwdriver
28. sewing eye
Here is a link if you want to see the specifications and more information:
SwissChamp Pocket Knife, Swiss Army, Swiss Army SwissChamp Pocket Knife
I absolutely love this knife - it goes with me everywhere. Whether fixing your eyeglasses when the screws come loose, to pulling a splinter out of your finger, to starting a fire with the magnifying glass, to filleting a fish and scaling it first too, this knife does a lot of tasks, and does them well. Consider one for your daily use.
It is about $99 MSRP, but I got mine on sale for $80 - every tool is extremely well made, and the blades are all super sharp. Great knife to carry or for your BOB!
[Not affiliated with the company in any way - just a very happy customer....]