Discussion Starter
·
#1
·
Here is a picture of one of my Bug Out Bags. This is a 511 Tactical RUSH 24 backpack, set up for .308 rifle and 12 gauge shotgun, and outfitted with a Blackhawk .308 20-round ammo pouch, a Blackhawk 18 round 12 gauge ammo pouch, a GPS pouch, a single stack mag pouch (for .223/5.56 mag), a water bottle carrier, and a Voodoo Tactical front rifle rest (to use the pack as a shooting rest). The backpack is designed to hold 24 hours worth of gear, and is very well made. The shoulder straps also have a sternum strap to keep the shoulder straps from slipping around if you have to scramble. The back pack will also hold a hydration bladder, and has a grab handle that can be used to drag a person who is wearing it if they become incapacitated. You can also route your iPod/iPhone earbuds through the back pack for use on the move. The pack has multiple compartments, and slots and internal organizers for all your miscellaneous gear. It is available in black, sandstone, flat dark earth, or TAC OD. Here is how mine is rigged (I liked this one so much I have another one just like this set up for .223/5.56mm). Great backpack for use as a BOB. I also use this backpack for hunting, which is why I went with the setup it has. I can reach everything I need without opening the BOB, so no risk of dropping things or exposing anything inside to the elements.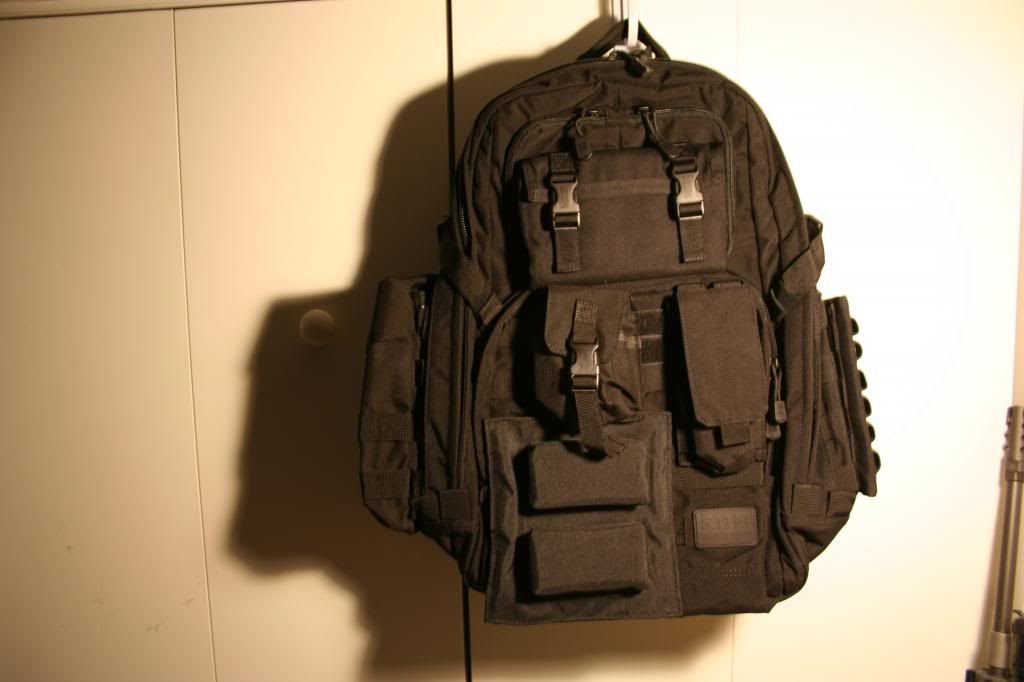 Link to the back pack if you want to see further details and inside compartments:
5.11 Tactical RUSH 24 Tactical Backpack | Official 5.11 Site
Not affiliated with the company in any way, just a long-time very happy customer that loves their customer service, equipment and clothing.
Please post pictures of your BOB so others can see how you set yours up. Thanks, fellow preppers and survivalists!