Discussion Starter
·
#1
·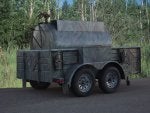 My wife and I own a very small fabrication company in Tucson AZ. About three years ago I was contracted to make a "fuel reclamation" trailer for a major rental car company, long story short, they did not purchase all of the trailers that I built. I have 50 or so of them left and they have been just sitting at my shop.
A few months ago my brother-in law had me fabricate one of them into a two tank storage unit. The larger (500 gallon) tank holds diesel fuel for a generator and his pickup, then we added a second smaller (250 gallon) tank made of food grade stainless steel to store water. He took the trailer to his bug out property in south Texas. He has been on a steady rotation regimen and the trailer is working out great for him.
After seeing his successes, I came up with an idea of a bug out trailer for the preparedness community. The idea is to provide a safe and effective way to transport and store large volumes of fuel and water, as well as offering some customizable features. I started a web site to show the unit.
HOME
.
If anyone has any suggestions for improvements or is interested in a trailer please PM or call me for information.
Thank you in advance,
Eric Johnson