Slip 5
Slip 5 contains #3 Barrel Swivels in both Brass and Black plated and will be used for heavier applications. I have 2 packs of 36 which should be suffcient for a good while even under daily use.
Slip 6
Slip 6 contains 4 packs of 15 Bobber Stops to allow for the use of a slip bobber which I feel for a number of reasons are much superior to the spring loaded clip on Bobbers. They are also far better than any thing someone will be able to whip up while in the "Outback". To be honest instead of buying them I probably could have just got a spool of fine twine and a pack or two of cheap beads from the craft section of the store and did just fine.
Slip 7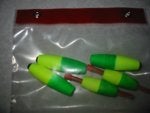 Slip 7 contains small and medium small Slip Bobbers. These work best for targeting smaller fish such as bull Bluegills, Shell Crakers and other such small fish. I have 5 total but will likely be adding 6 quality Balsa ones shortly.
Slip 8
Slip 8 contians medium sized Bobbers which will work very well for targeting Crappie, Sand Bass or small Catfish and LMB. It wouldn't hurt to add a couple more to the collection a little later down the road if space permits.
Slip 9
Slip 9 contains all of my small lead split shot for use with the 3 sizes of Bobbers I have. There are 96 of them in that slip which should be suffcient for a hard years worth of fishing.