In tough times there is a pretty high possibility that one may find themselves having to scrounge for food to eat. You can squirrel away a lot of preps but sooner or later your going to have to do something a little more sustainable. Fishing often tops the list for those that find themselves in such a situation.
Since I live on a shore front lot to a large North Texas lake, this was an obvious choice for me when it comes to adding a little protein to the dinner table. As such I set about putting together a Survival Fishing Kit to make sure that I have all of the items I would need. Many will just use a small tin or pouch and throw a few hooks, weights and a little line in it and call it good. But I wanted something a little more extensive, I also wanted something that would last me for an extended period of time. That reason became a requirement for me because in a long term SHTF situation I may not be able to replenish my supplies and if I am able to replenish them it may be prohibitively expensive to do so.
So here is a little something tackle only I came up with and put together. Its primarily oriented towards targeting Bluegill, Crappie, Sand Bass, Catfish and possibly even Large Mouth Bass which are quiet common here.
Tackle Bag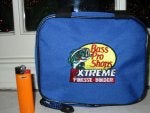 I needed something to put all my gear in. So while cruising Bass Pro Shop on the way to work one day I found this sweet little set up. It's a Bass Pro Shops Extreme Finesse Binder. It measures 7"x 6" x3".
On the front flap inside I put a small LED Light that will attach to a ball cap, a Nylon Stringer and a Multi-Tool. The back side flap has a 4 pack of clip on bells to clip on the end of your rod to signal when you have a fish on allowing you to do other things as long as you remain in ear shot. These are great for night time Catfishing.
Slip 1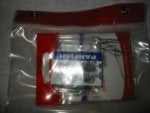 In this slip I placed all of the hooks I would be using to catch some bull Bluegill which are pretty thick in southern waters to the point of often over populating a body of water. I have hooks mainly in the #8 and #6 bronze Cricket style of hooks. Believe it or not, I have 127 hooks total in there!
Slip 2
In this slip I place some medium sized hooks. I chose #2 Gold Aberdeen style hooks. These are about perfect size and style wise for fishing "a minnow under a bobber" or "Tight Lining" for Crappie or Sandbass. While they are a bit light they will also take Large Mouth Bass or smaller Catfish using the same technique too. There is 150 hooks in this slip!
Slip 3
This slip has Circle Hooks in it. I have 36 in 3/0 size. 3/0 size is just about right for nose hooking a 3-4 inch Shad baitfish which is the bait of choice here on Texas lakes for most species of Catfish. This works well on eating size Catfish in the 1-8 lbs range. I also included a 12 pack of 5/0 Circle Hooks as well. These work well for nose hooking larger shad up to about 10 inches or Bluegill up to about 5 inches if the Catfish are running over about 8 lbs.
Slip 4
Slip 4 contians small #7 Barrel Swivels and will mainly be used for lighter applications. I only have a single pack of 12 but I will be adding about 3-4 more of these in the near future.