Discussion Starter
·
#1
·
You guys may wonder what a Squatch does in his spare time (I'm sure you stay up nights wondering). Well, in my spare time I'm a fish wrangler. Over the years I've had many a fish tank but now that I'm older and wiser I try to make them better. In fact I like them to be functional.
I wanted a fish pond but I have nowhere to dig a hole so I thought above ground was the way to go. I built the entire thing and installed planter boxes to make it more aesthetically pleasing. Currently I have small Koi and Shubunkin goldfish housed in it. Believe me, if SHTF these guys are going on grill.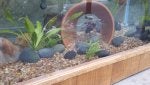 I've also been testing the idea of using my inside tank to grow plants for eating (Aquaponics). It's not a lot of food but it's something. This is my small 5 gallon tank I'm testing this out on.
The cups are netted and hold clay balls which is what the plants are buried in. The roots grow through seeking the water below. The fish waste acts as fertilizer and in turn the plant gives off O2 and helps keep the water clear.
And this is my newly started Aquascape tank (20gal) that once fills in will look a lot better. I'm going to build a top like on the 5 gal. to house whatever vegetables or herbs I decide to grow in it. Still need to install the lighting and put the fish in once the tank has cycled.
This is aquaponics on a very small scale. I'm hoping to learn from this experience so I can make it much bigger in the future.