Discussion Starter
·
#1
·
If you'd have asked me 5, 10 years ago if I'd trade my Gas Powered Lawn/Garden/Tree Equipment for Battery Powered Equipment I'd have called you a Tree Huggin' Libtard and kicked you in the ass multiple times as you squealed like Metro-Sexual Millennial at a Restoration Hardware Store in Mid-Town Atlanta! :vs_laugh:
Today, well, I am all in with Battery Powered Equipment!
My latest purchase was the Oregon Battery Powered Pole Saw Model PS250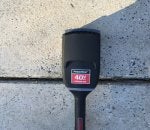 It took about 15 minutes to assemble the saw and it was surprisingly sturdy even thought there was a good amount of plastic parts. The business end, the chainsaw was just like any other high quality chainsaw and I was impressed when it was fully assembled. Lightweight yet sturdy is how I would describe it. And just under 8' in length gives it plenty of reach for me.
The 40 V 2.6 AH battery took about 30 minutes to fully charge and when engaged it was very quiet...yet you immediately felt the power of the saw when you engaged it.
My driveway is 900 feet long so I commenced to cutting some limbs and a few small sapling trees. The largest diameter tree/limb that I cut measured over 4 inches, but most were between 1-3 inches. I made 62 cuts in about 25 minutes and the saw performed like a gas powered saw only much lighter and quieter. The fact that the saw only runs when you engage the cutting handle is a huge improvement over lugging a gas saw around while it runs.
The chain is a high quality Oregon chain that is interchangeable on its gas saw and it showed no sign of wear. I measure the battery charge when I finished and in 62 cuts it only used 25% of its charge. I didn't use the extender, as is was plenty long enough for me.
I'd give the Oregon Battery Powered Pole Saw 10 out of 10 Slippy's for the work that it did on my driveway. The next challenge will be on my back road which is considerably longer than the driveway and I'll see if the battery can perform long enough for me to complete the job.
But so far SLIPPY APPROVED!