Awhile back I was watching a winter storm roll on in, and saw the dreaded blue flash of light from a transformer giving up its electronic ghost.
Turns out a dead pine tree (from powder post beetle infestation) had cracked from the wind, took out a power line, and blew out the transformer.
I am always on the lookout for items that will aid in emergency preps, none more common than power outages. So, I was at Lowe's, and I always venture through Tool World whenever I go there, looking for good deals that the employees always try and squirrel away for themselves (yeah, it definitely happens, all the time). I come upon some DeWalt worklights, based off of their 18 volt nickel cadmium rechargeable batteries for their handheld power tools. DeWalt tools are incredibly high quality, but they are way too expensive to pay full retail on. So I always check on sales for these, and I found this work light, which normally retailed for $49.95 on clearance sale for $24.95. Now, that is what a decent Mag-Lite sells for, so it caught my eye. I ended up buying four of them, because I have two chargers and four batteries from other DeWalt tools on sale purchases in the past. These things are great - you can hang them off of the included metal shepherd's hook, and they really throw off some light. They can light an entire room up at night, and last quite awhile before they have to be recharged. Pop on a new battery, and you go again.
Here is what one looks like: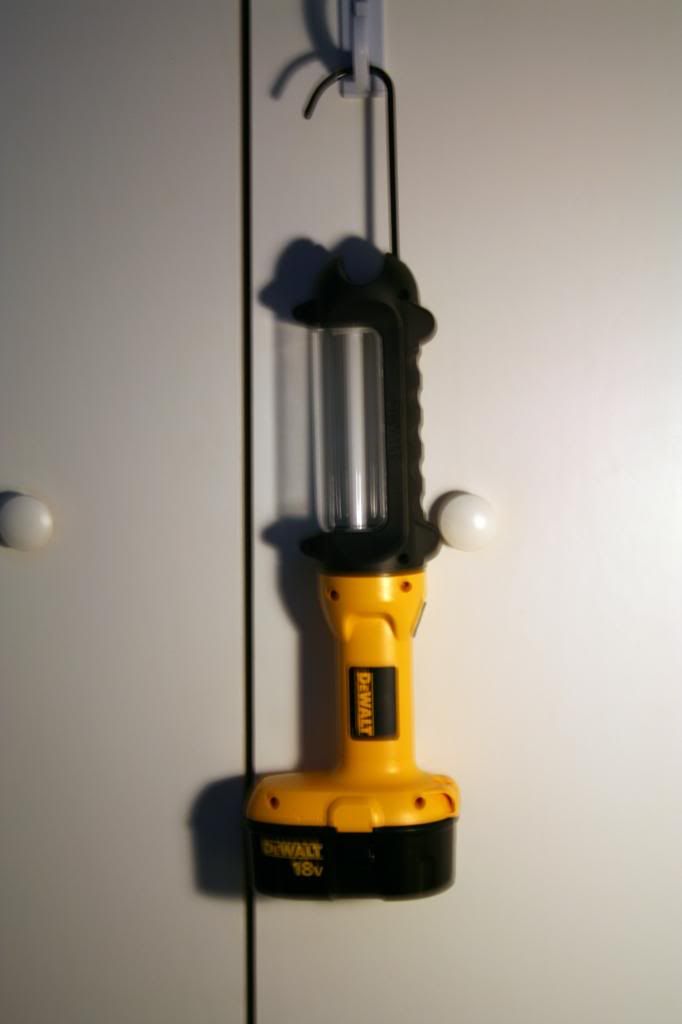 I really like these. They are very well built, and stand on their own without wobbling. They throw off a wide bright light, and you can direct the beam if you need to. They are great for working on equipment, and last about 45 minutes before needing a recharge. Word of warning though -- when they die, they just go off, no dimming or flickering. So you need to be ready to switch power sources. Great light if you have DeWalt equipment already. I love mine - great during blackouts!
I have some other backup lighting equipment that I plan to add to this thread, so if you want to post up some pictures of yours "Come into the light. All are welcome. Come into the light!"