Here's my current 96 hour GHB. I know a GHB is usually smaller than this and a bug out bag is usually considered a 72-96 hour bag, but I tend to think of the two differently than most.
My view on it is that a GHB should be able to sustain me for 72-96 hours of travel in the event that I have to walk home from somewhere. It's not uncommon for me to take day trips that would be a 3-4 day walk home, especially if I had to deal with disaster type circumstances such as looters, blocked/flooded roads, bad weather, etc. I also feel like it should be useful in case I need to shelter in place because of a weather event, such as being snowed in the office and having to sleep a few nights there. I also tend to keep some luxury stuff in there so minor stuff like getting snowed in turns out to be kinda fun. Also just like my EDC I like for the bag to help out with day to day stuff to give me an excuse to get into it regularly. That way it doesn't just become a paperweight in the trunk.
A bug out bag on the other hand is something I would have pre-packed to throw in the vehicle if we got evacuated for some reason. I honestly can't say I have one set up yet, but it would be more along the lines of extra clothes, important documents, and things like that.
That's just my opinion because for me bugging out would mean the whole family coming with. You can't fit all those necessities in any backpack I've ever seen.
There's too much in this beast to put it all in one picture so I'll just post the pics of what is in each pocket with the pocket open that it came out of, and an explanation below of why I chose those items.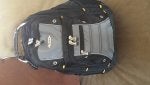 The bag: Targus Drifter II
It's a good quality laptop backpack that has plenty of pockets to help me keep things organized without resorting to MOLLE pouches. MOLLE is fun but the attachment gear is so much heavier than just having pouches that are already sewn on, and of course it screams military/police/prepared. For some of you that matters, for some it doesn't. I figured there might or might not be an advantage to looking like a normal guy with a backpack, but I can't see any advantage to looking tactical on US soil. Also the bag is still pretty toned down colors, so it doesn't stick out much in the woods. Even less if I wrap the green poncho over it. It's been sprayed with silicone waterproof "camp dry". The camp dry doesn't just make the pack water resistant to keep your gear dry, it also keeps the pack from absorbing water and getting heavier. I didn't spray the back pad because when I have done that in the past with other bags it ruins any moisture wicking properties it has.
The tools pouch:
Waterproof bag
30 feet 550 cord (daisy chained)
Gerber suspension multi-plier
AWESOME knife sharpener (SelecTool)
Fine tooth wire saw (for metal)
Coarse tooth wire saw (for wood)
Duct tape
Fishing kit in a little black box
Regular pen
Gerber tactical pen
Signal mirror
Cheap binoculars
Headlamp that clips onto a baseball cap brim
I keep the knife sharpener in there more for day to day use than survival use, but I guess it would be useful then too. It's easily the fastest and easiest to use sharpener I've ever owned.
The wire saws actually work pretty well when you use some green wood to turn them into bow saws. A good quality fine tooth one can get through a non-hardened padlock in about 2 minutes with enough elbow work, if you lose your keys. Of course sawing wood with one is much quieter, and it's certainly lighter than a hatchet. The gerber tactical pen has a nice little glass breaker on it and could be used as a weapon if it came to that. There's usually a notepad in here too but I was using it the other day and took it out. The mirror gets a lot of day to day use picking my teeth and checking my hair (lol). It's also useful for inspecting yourself for ticks and other injuries.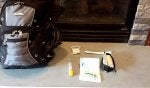 Trauma pouch:
CAT tourniquet
Compressed gauze
ACE wrap
Quickclot combat gauze
EPI-pen
14 GA needle
Tegaderm
Compound benzoin ticture
The trauma pouch is easily and quickly accessible on the outside of the pack. It's got pretty much everything you need to deal with a single life-threatening injury such as an allergic reaction, gunshot wound, severe laceration, sucking chest wound, etc. I opted for gauze and an ACE wrap instead of an Israeli dressing because you can pack a wound with the gauze. The ACE wrap could be useful for sprained ankles too, the most likely injury walking a long distance with a weighted backpack.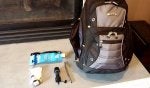 Water pouch:
Sawyer Mini water filter
Straw and squeeze bag that came with the Sawyer
Iodine tablets and neutralizer
coffee filters
2 1 Liter water bottles (not pictured)
I left the bottles out of the picture but I always have a case of 1L bottles in the trunk of the car and there are holders on each outside pouch (water and trauma pouches) for the bottles. The Sawyer mini filter is rated to .1 microns and the package claims it can filter "up to 100,00 gallons from freshwater lakes, rivers or streams." It can be backwashed and reused over and over according to the manufacturer. It comes with a straw and a squeeze bag it can screw on to. It also has the same threads as the cap to most water/soda bottles so you can use whatever clean bottle you find. I'm working on making an adapter to attach it to garden hoses or outdoor spigots, and probably another to screw it onto home faucets.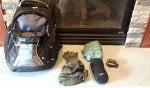 Clothes pouch:
Kevlar gloves with goatskin leather palms and padded knuckles
Frogg Togg poncho
Shemagh
Skivvy roll
WASP survival bracelet
The gloves get use almost every week. From picking up nasty stuff to yardwork and loading bricks at the hardware store. The poncho could work for an improvised shelter and to keep you and the bag dry while moving. The shemagh was more of a winter item and usually gets changed out for a normal bandanna in the summer/spring months. The skivvy roll is boxer briefs and a t-shirt wrapped in fresh socks. In the winter I swap in "waffle-pro" long underwear (recent army vets will know what I'm talking about) and good waterproof backpacking socks (I can't remember the brand name). The WASP bracelet has pretty much everything in it you would find in an Altoids tin survival kit, and a handcuff key hidden inside the buckle. WASP also has a lifetime warranty that if you ever have to deploy the kit in an emergency they will replace it completely.
I guess I exceeded my size limit because it won't let me upload any more pictures. I'll post the rest in a reply. Sorry it's such a long post guys.
EDIT: Wigwam is the name of the socks.